Posted by Kitty on May 14th 2013
Bike Fitting: How To Make Sure Your Bike Fits You for a Comfortable Ride
Bike fitting is important for your unique body type and is essential for comfort, performance, and the prevention of injury. In this post we will discuss bike fitting for road bikes and mountain bikes. This is great knowledge for the intermediate to advanced riders.
When buying a new bike from your local dealer they will help size a bike specifically to your body needs. These tips apply more to a person who is planning to buy used, online, or building a custom bike. Of course, even when buying locally, it is good to know what the seller is doing to know they are doing their job right and you are not being cheated.
It is also a good idea to go to a bike shop and get the desired adjustment, you do not have to buy a bike from there, but building a relationship with the owner can always work in your favor.
The easiest part of this process is deciding the type of bike that is right for you, a road bike or a mountain bike. Once you've decided on your method of transportation head out to a store and get sizing. Please note that this knowledge applies to both men and women but does not apply to women's bikes.
Let's go over how to fit (and pick) a road bike first. Pick up a road bike and stand over the top bar with feet flat on the ground on either side of the bike. There should be a 1"s – 2" inch clearance between your crotch and the top of the bar.
When sizing up a mountain bike the same technique is used but there should be a 2" – 3" inch clearance because when riding a mountain bike there is more standing involved.
The next part is making sure the bike fits to your body type with the different adjustments. Being able to set the seat position is critical for efficient, safe riding and to achieve maximum comfort. Start with a level seat position and look for an even weight distribution while sitting. Then adjust the height of the seat to the point where there is only a slight bend in your knee when at the lowest pedal position. This will help to achieve the best energy performance when riding. After getting the seat to the height needed make sure your body weight still disperses evenly on the bike for both sitting and standing.
After finishing the seat it is time to move onto the handlebars. The handlebar height is primarily for comfort, but with mountain bikes also helps in weight distribution, which is especially important uphill. The goal here is to adjust the handlebars to eliminate extra strain in your back, wrists, and shoulder when riding. Since everyone has a different body type there should be a lot of experimenting until the perfect fit is found. Adjusting your handlebars is a lot like shopping for a couch, everyone has a personal comfort setting they're looking to get out of it.
Remember the staff at the local bike shop is always willing to give out advice and helping you find the best handlebar fit. They will have tips for improvement. In essence what bike shops are looking for ideal positioning, which is a 45-degree angle with arms slightly bent. That's "ideal" positioning, but we all know that no two bodies are the same. If you are continually messing around with your handlebars and seat, there may be a bigger underlying issue that your bike shop can help address. Never, ever, exceed the minimum insertion mark on the handlebar step unless you blatantly disregard safety and are seeking a life of extreme pain.
As a general guideline for road bikes the top of the handlebars should be between 1" – 2" inches lower than the top of the saddle. The goal is to create a comfortable ride all while reducing wind resistance and improving energy efficiency on the road.
Mountain bikes, on the other hand, need the handlebars set 3" – 4"inches below the saddle for a low center of gravity for when the rider takes the bike uphill, downhill, and off road. Mountain biking requires frequent riding with your butt off the seat so having a lower handlebar setting will help to better distribute the weight. It also helps when you have your butt on the seat going up hill — it's never fun to have the front end of the bike float on you because you have too much weight in the rear.
The following charts may come in handy as a quick reference guide for matching frame size to body size. The first bike fitting chart shown below is for road bikes: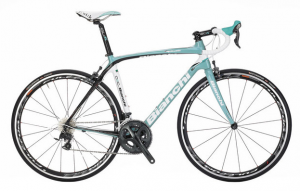 | | | |
| --- | --- | --- |
| Rider Height | Inseam Length | Frame Size |
| 4'10" – 5'1" | 25.5" – 27" | 46 – 48 cm |
| 5'0" – 5'3" | 26.5" – 28" | 48 -50 cm |
| 5' 2" – 5'5" | 27.5" – 29" | 50 – 52 cm |
| 5'4" – 5'7" | 28.5" – 30" | 52 – 54 cm |
| 5'6" – 5'9" | 29.5" – 31" | 54 – 56 cm |
| 5'8" – 5'11" | 30.5" – 32" | 56 – 58 cm |
| 5'10" – 6'1" | 31.5" – 33" | 58 – 60 cm |
| 6'0" – 6'3" | 32.5" – 34" | 60 – 62 cm |
| 6'2" – 6'5" | 34.5" – 36" | 62 – 64 cm |
Mountain bikes are often listed with a sizing chart that ranges from XS to XL, similar to T-Shirt sizing. Below is a bike fitting chart for mountain bikes:
| | | |
| --- | --- | --- |
| Rider Height | Frame Size in Inches | Frame Size |
| 5'0" – 5'2" | 13" – 14" | XS |
| 5'2" – 5'6" | 14" – 16" | S |
| 5' 6" – 5'9" | 16" – 18" | M |
| 5'10" – 6' | 18" – 20" | L |
| 6' + | 20" – 22" | XL |
Please remember when fitting any bike it's always a good idea to consult a bike tech to be sure you are doing it correctly, unless you're a pro. That's our general rule of thumb, you'll find that every bike will have its own quirks. If you do have any questions, ask your local bike shop. It is better to be sure and safe rather than questioning and getting into an accident. Happy Riding!