Posted by Bike Attack on Sep 23rd 2023
If you're a fan of outdoor shopping and dining experiences, you're in for a treat. Nestled in the heart of Los Angeles, there's a secret gem waiting to be discovered – Playa Vista's outdoor mall Runway Playa Vista - on the Westside of LA's Silicon Beach. This hidden treasure boasts not only a fantastic shopping experience but also some of the best dining options around. Plus, it's home to America's Best Bike shop. Intrigued? Let's take a closer look at what makes Playa Vista so special.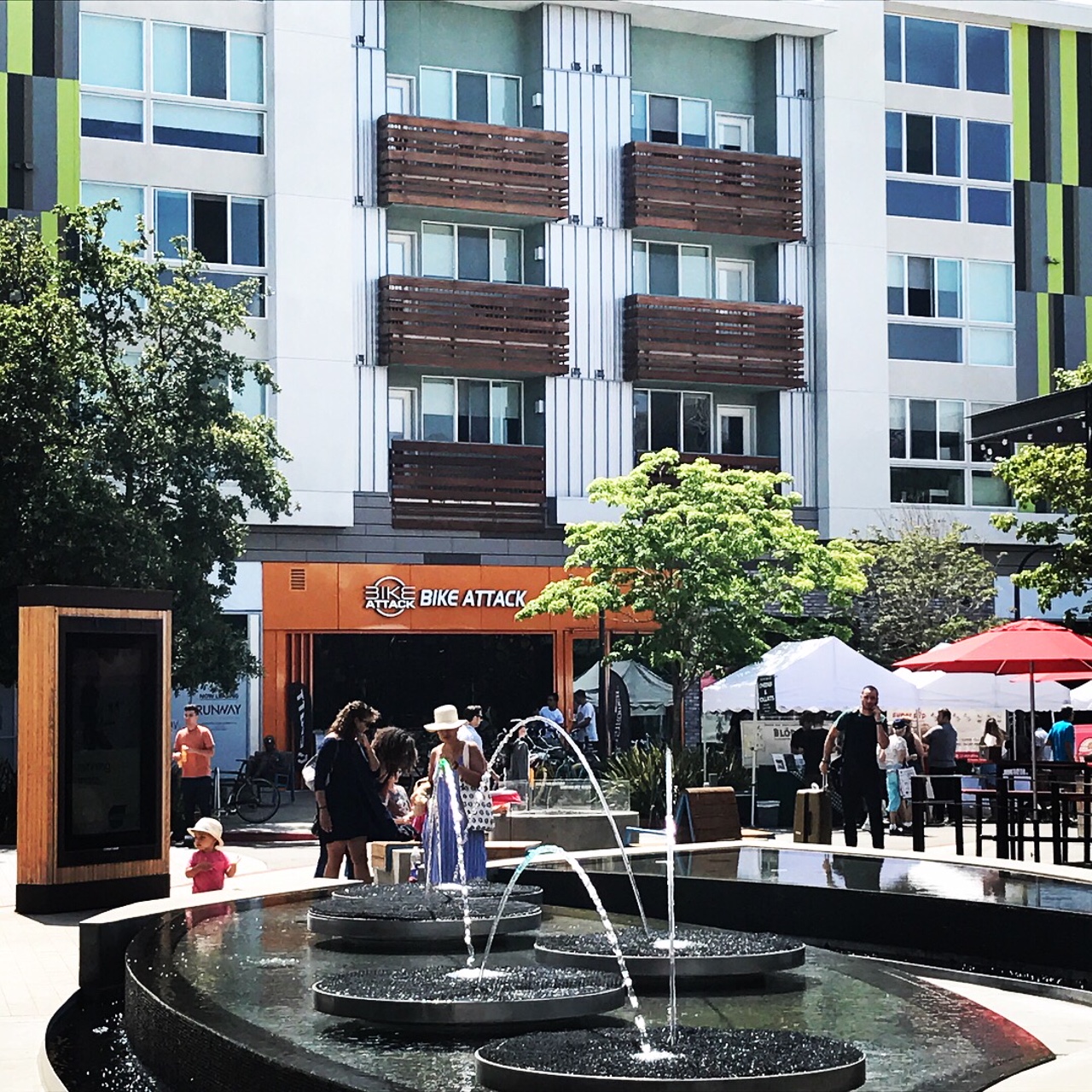 The Allure of Playa Vista
Playa Vista is a charming community situated on the west side of Los Angeles, and it's known for its blend of modern living and natural beauty. Its outdoor mall Runway Playa Vista is a testament to this unique combination, offering a refreshing and vibrant experience for visitors and residents alike.
Shopping Extravaganza
Step onto Playa Vista's outdoor mall Runway Playa Vista and you'll find an array of boutiques and shops that cater to various tastes. From upscale fashion stores to niche specialty shops, there's something for everyone. Whether you're on the hunt for the latest trends, eco-friendly products, or one-of-a-kind gifts, you're bound to stumble upon hidden treasures here.
One standout feature of this outdoor mall is its commitment to sustainability. Many stores showcase environmentally-friendly products, making it a great place to support eco-conscious brands and make sustainable choices while shopping.
Cycling enthusiasts, rejoice! Playa Vista is home to America's best bike shop Bike Attack Playa Vista. This haven for bikers and electric bike enthusiasts offers a wide range of bicycles, electric bikes, accessories, and expert guidance. Whether you're a seasoned cyclist or a beginner looking to explore the world of biking, this shop has you covered. The staff is known for their extensive knowledge and passion for all things cycling, making it the go-to spot for bike enthusiasts.
Culinary Delights
After a day of shopping and exploring, it's time to satisfy your taste buds. Playa Vista's outdoor mall Runway Playa Vista is a food lover's paradise, with a plethora of dining options to choose from. Whether you're in the mood for gourmet cuisine or quick and delicious bites, you won't be disappointed.
Playa Vista's outdoor shopping center offers an array of dining options that cater to all tastes. Here's a quick tour of some must-try eateries:
Whole Foods: For the health-conscious foodie, Whole Foods is a haven of organic and natural products. Grab a freshly prepared salad, artisanal sandwich, or a tasty smoothie to fuel your day of exploration.
Joliet Café & Bar: Nestled in the heart of Playa Vista, is a culinary gem that captures the essence of warm hospitality and culinary excellence. This inviting establishment combines the cozy ambiance of a café with the sophistication of a modern bar, creating a versatile space that suits any occasion. The menu at Joliet offers a delightful fusion of international flavors, from Mediterranean-inspired small plates to artisanal cocktails that cater to diverse tastes. Patrons can enjoy handcrafted coffee creations during the day and transition seamlessly to a vibrant nightlife experience in the evening. With its attentive staff, chic interior, and an ever-evolving menu that keeps pace with culinary trends, Joliet Café & Bar has become a beloved fixture in Playa Vista, where locals and visitors alike can savor exceptional food and beverages in an atmosphere of warmth and style.
Dan Modern's Chinese: Dan Modern's Chinese restaurant in Playa Vista is a culinary gem that elevates the dining experience with its contemporary take on traditional Chinese cuisine. The restaurant seamlessly blends modern aesthetics with a menu that pays homage to the rich culinary heritage of China. From delectable dim sum options to flavorful stir-fries and signature noodle dishes, Dan Modern's offers a diverse range of dishes that cater to both classic cravings and adventurous palates. The sleek and stylish interior creates a sophisticated ambiance, making it an ideal setting for everything from casual lunches to intimate dinners. The attentive service and commitment to using high-quality ingredients ensure that each dish is a delightful journey into the flavors of Chinese gastronomy. Dan Modern's Chinese restaurant has quickly become a go-to destination in Playa Vista for those seeking a contemporary yet authentic dining experience in the heart of the community..
Hopdoddy: Hopdoddy in Playa Vista is a culinary haven for burger enthusiasts and craft beer aficionados. This restaurant brings a fresh and innovative approach to the classic burger joint, offering a menu that features thoughtfully crafted, high-quality burgers made with a range of creative and flavorful ingredients. From the Angus beef patties to the artisan buns and house-made sauces, every element is meticulously chosen to ensure a top-notch dining experience. The diverse menu also caters to various dietary preferences with options like vegetarian and gluten-free burgers. Complementing the burgers is a selection of craft beers, providing a perfect pairing to enhance the overall dining experience. With its contemporary and inviting atmosphere, Hopdoddy in Playa Vista has become a go-to spot for those looking to indulge in a delicious and satisfying burger adventure in a lively and friendly setting.
Sol Mexican Cucina: Sol Restaurant in Playa Vista is a culinary haven that beckons patrons with its vibrant atmosphere and a menu inspired by the rich tapestry of Mexican flavors. This eatery captures the essence of modern Mexican cuisine, blending traditional recipes with contemporary flair. The warm and inviting interior of Sol mirrors the passion for authenticity reflected in its dishes. From street-style tacos bursting with bold flavors to artfully crafted margaritas that complement the savory fare, every aspect of the dining experience at Sol is a celebration of Mexican culinary heritage. The restaurant's commitment to using high-quality, locally sourced ingredients ensures that each dish is a symphony of fresh and wholesome tastes. Whether enjoying a casual lunch or a festive dinner with friends, Sol Restaurant is a go-to destination in Playa Vista for those craving an immersive Mexican dining experience in a lively and welcoming setting.
Superfine Playa: Superfine Playa, the latest addition to the culinary landscape in Playa Vista, has swiftly become a local sensation for its innovative approach to comfort food. Nestled in a chic and welcoming space, the restaurant exudes a vibrant energy that mirrors its menu. Superfine Playa distinguishes itself by offering a menu that seamlessly blends indulgence with health-conscious choices. From gourmet burgers with artisanal toppings to inventive grain bowls bursting with flavors, the restaurant caters to a diverse range of palates. The use of fresh, locally sourced ingredients underscores Superfine Playa's commitment to quality, ensuring that each dish is a delectable masterpiece. With a trendy ambiance, attentive service, and a menu that embraces both culinary creativity and nutritional mindfulness, Superfine Playa has quickly become a go-to destination for those seeking a delightful and satisfying dining experience in Playa Vista.
Neighbors: As a culinary cornerstone in Playa Vista, Neighbors restaurant stands out for its commitment to community and great food. The establishment is more than just a place to dine; it's a hub that fosters a sense of belonging and camaraderie among locals. Neighbors seamlessly blends a welcoming atmosphere with an inventive menu, offering a diverse array of dishes that celebrate local ingredients and global influences. From brunch favorites like avocado toast to dinner entrees that showcase culinary creativity, Neighbors takes pride in delivering a dining experience that caters to a spectrum of tastes. The restaurant's dedication to sustainability is evident in its sourcing practices, with a focus on fresh, seasonal produce. With a friendly staff and a cozy interior, Neighbors has become a gathering spot where friends, families, and neighbors come together to enjoy not just a meal, but a shared sense of community in the vibrant heart of Playa Vista.
Urban Plates in Playa Vista is a haven for food enthusiasts seeking a fresh and wholesome dining experience. The restaurant offers a diverse menu featuring thoughtfully crafted dishes made from locally sourced, organic ingredients. Urban Plates stands out for its commitment to transparency in food preparation, allowing customers to witness the cooking process through an open kitchen concept. From vibrant salads to hearty plates, the menu caters to various dietary preferences, including vegetarian, vegan, and gluten-free options. The inviting atmosphere, coupled with the emphasis on health-conscious and flavorful cuisine, makes Urban Plates a go-to spot for those looking to savor delicious meals that align with their wellness goals in the heart of Playa Vista.
Shopping Extravaganza
Once you've satisfied your appetite, it's time to explore the shopping possibilities at Playa Vista's outdoor mall. Here are some standout stores you won't want to miss:
Alchemy Works: Discover unique fashion, accessories, and home goods at Alchemy Works, a concept store that curates a carefully selected collection of artisanal products.
Archive Atelier: If you're a fashion enthusiast, Archive Atelier is a must-visit. They showcase a curated selection of high-end and sustainable fashion brands.
County Line Florals: Brighten your day with a bouquet of fresh flowers from County Line Florals. Whether it's for a special occasion or just because, their floral arrangements are sure to delight.
Parker Clay: Elevate your style with ethically sourced and beautifully crafted leather goods from Parker Clay. Their commitment to sustainable practices shines through in every product.
Period Correct: For automotive and motorsport enthusiasts, Period Correct offers a selection of apparel and accessories that celebrate the golden era of racing.
Matte Argyle:
Playa Vista's first black-owned fashion boutique nestled in the vibrant neighborhood of Playa Vista is a secret among celebrities and stands out as a distinctive clothing store that caters to those with a penchant for unique and sophisticated fashion and is size inclusive. The boutique's ambiance reflects its commitment to curated style. Matte Argyle prides itself on offering a carefully selected collection of high-quality clothing, blending classic with contemporary trends. Whether seeking a statement piece for a special occasion or a wardrobe staple for everyday wear, patrons can explore a diverse range of styles at Matte Argyle. The store's knowledgeable and attentive owner Tashiba Jones-Wilson further enhances the shopping experience, providing personalized recommendations and ensuring that every customer leaves feeling confident and fashion-forward.
Rock Climbing Thrill
Sender One: If you're up for a physical challenge, head to Sender One, an indoor rock climbing gym that offers thrilling climbing experiences for all skill levels.
Playa Vista's hidden gem is a testament to the vibrant culture of Southern California. Whether you're looking to shop, dine, or simply enjoy the outdoors, this outdoor mall has it all. So, the next time you're in the area, don't miss the chance to discover Playa Vista's best-kept secret and create unforgettable memories in this remarkable neighborhood.
The Outdoor Experience
One of the most remarkable aspects of Playa Vista's outdoor mall Runway Playa Vista is the lush landscaping and open-air design. This mall embraces the California lifestyle, with its warm climate allowing visitors to enjoy the outdoors year-round. Stroll along the tree-lined walkways, take in the beautiful landscaping, and bask in the glorious Southern California sun.
Hidden Best Kept Secret
While many flock to the more well-known shopping destinations in Los Angeles, Playa Vista's outdoor mall Runway Playa Vista remains a hidden gem waiting to be discovered. It offers a unique blend of shopping, dining, and outdoor experiences that make it a standout destination for those looking to escape the hustle and bustle of the city.
So, the next time you find yourself in Los Angeles, be sure to venture over to Runway Playa Vista and experience this hidden best outdoor mall Runway Playa Vista. Whether you're a shopaholic, a foodie, a cycling enthusiast, or simply seeking a relaxing outdoor escape, Playa Vista has something to offer you. It's a slice of paradise tucked away in the city of dreams, waiting for you to uncover its secrets.